In our experience, projects that are owned by the community are the most sustainable. We therefore empower local people to make decisions and help build the capacity to maintain projects for generations.
Our approach focuses on a demand-driven, community-led approach. This means we facilitate a participatory process where: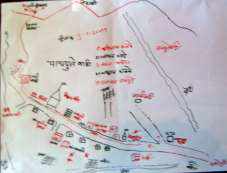 A map created during a community planning session in India in 2010.
1. People identify their own challenges through:
Village meetings

Awareness building

Community mobilization

Transect walks

Watershed surveys

Community-Led Total Sanitation (CLTS)
2. Stakeholders collaborate to design solutions with:
Participatory mapping

Design charettes

Community-led approaches

Locally appropriate materials

Tailored solutions
3. Communities implement and manage projects long term through:
Local steering committees

Community investment and buy-in

Careful use of subsidies

Skills transfer