Spring Protection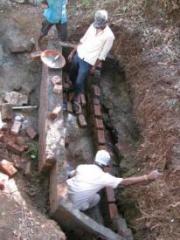 Installation of a spring box to protect the spring source and pipe water to a village 2 km downhill.
India is more dependent on groundwater than any other country, and the cost of pumping that water taxes India's power grids and makes water lift schemes unaffordable for many communities. However, there are alternatives.
Throughout the Western Ghats, the mountains along India's west coast, there are natural springs that provide a perennial supply of pure water. Occurring high in the hills, they also represent an opportunity for gravity-fed, zero-energy drinking water supply. Although they were utilized by many villages for centuries, the springs are now under threat from development, groundwater exploitation and contamination.
Watershed Management Group and its partners in India have been working with several communities in rural Maharashtra to protect these springs. We have developed a model program that harvests water for community drinking water systems, prevents contamination, protects the spring ecosystem, and recharges the groundwater. These projects supply pure water for more than 500 people -- and we hope to expand this project to several more communities this year.

Latrine Program

More than 1.1 billion people still practice open defecation worldwide. In addition to the public health risks, there are dignity and safety issues involved with this practice, especially for women and girls who must walk long distances or wait until darkness for privacy.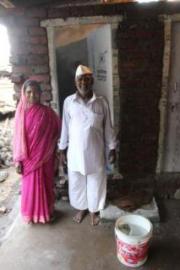 Baban and Lilabai next to their newly constructed toilet, April 2012.
Access to sanitation is a basic human right and one of the most important requirements to allow people to climb out of poverty, but it is currently not receiving the attention it needs. Watershed Management Group has been working to change that.
Most toilet programs focus on construction of the infrastructure without addressing the behavioral component. Thus, many families don't adopt the technology and thousands of latrines go unused. The key is to build demand, not infrastructure.
Our approach is to work with each household individually to determine the barriers to adoption and work with household members to overcome them. We couple this with technical guidance to ensure that villagers have access to the most appropriate and cost-effective sanitation options. While we use subsidies to incentivize construction, the amounts are small and paid out only after homeowners have significantly invested in the process themselves.
WMG and its partners are now overseeing latrine construction in three villages in rural Maharashtra.

School Handwashing Campaign

Diarrhea causes illness and death in millions of children under the age of five worldwide every year. It also contributes to malnutrition, decreased school attendance, weakened immune systems, and financial and mental hardship. Hand washing with soap is key in decreasing the incidence of diarrhea and is actually one of the most cost-effective interventions to prevent diarrheal related deaths and disease. Yet, this life-saving behavior is often not practiced and extremely difficult to promote.
In India specifically, more than 1000 children die every day from diarrhea. More than 400 of those deaths can be prevented by hand washing with soap.
WMG's innovative school handwashing program works to improve child health by increasing hand washing with soap behavior among students in Satara District. Reaching thousands of children every year, the program consists of a technological "pull" using tippy taps and an interventional "push" consisting of extensive behavioral change follow-up. Working closely with school staff and leveraging student relationships to take handwashing promotion into their homes and villages, the program is pioneering approaches that could have a global impact on public health.
To learn more about this program and specific techniques employed, see our report here. For more information about tippy taps see the program description below or visit tippytap.org.
Tippytap.org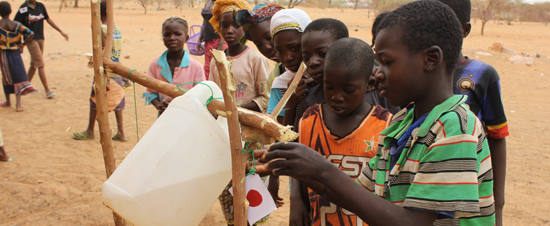 Hand washing with soap is one of the highest-impact public health interventions. It can reduce mortality due to diarrheal disease by almost 50 percent, and mortality from acute respiratory infections by 25 percent. These two diseases are responsible for about 3.5 million child deaths worldwide every year. And what's more, this high-impact solution is extremely cost effective. We therefore promote hand hygiene as a part of all of our programs and work to bring attention to this under-reported, under-implemented and under-funded solution.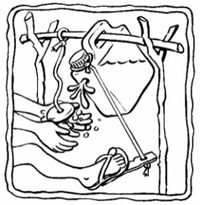 One of the ways we do this is using a tippy tap -- a hands-free, water-saving device for hand washing that anyone can make. The tippy tap uses little water, is easy to build, and uses local, inexpensive materials, and its hands-free design reduces vectors of disease transmission. While it is no substitute for proper water and sanitation infrastructure, it is a fun, accessible and safe technology whose simplicity resonates with people from all walks of life, and it allows us to get people talking about hand washing.
To reach a global audience, we created a website, tippytap.org as well as an award-winning video, titled "It's in Your Hands," that has been viewed by audiences worldwide and was featured on YouTube's front page. The website's goal is to build awareness of and promote best practices in handwashing programs around the world. The site documents handwashing program techniques, learnings, and impacts and provides free resources such as training manuals, videos, songs, and posters. Many of the materials are now available in 20 different languages. People are encouraged to map their taps and send pictures of what they do. To date, resources from tippytap.org have initiated or have been used by hygiene projects in Haiti, Ghana, Nigeria, Uganda, India, USA, Burkina Faso, Kenya, and more.

Launched in March 2011, tippytap.org is a collaboration between Watershed Management Group and Grampari, our local partner in India.