Burkina Faso, West Africa

Burkina Faso is one of the poorest countries in the world, ranking 134 out of 137 in the United Nation's Human Development Index. As in many countries, poverty here is predominantly a rural phenomenon largely affecting farmers and pastoralists.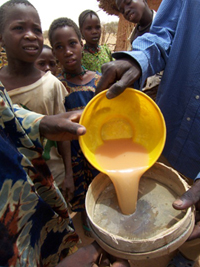 This situation is deteriorating as farmer incomes decline and ecosystems, upon which all livelihoods are based, are unraveling. Watershed Management Group has been working with community members, farmers' groups and local NGOs to provide functional examples of sustainable practices that can increase income and restore landscapes.
Watershed Management Group, in partnership with Ananda Marga Universal Relief Team (AMURT), has implemented several successful demonstration projects and community mobilization campaigns, including school hygiene promotion programs, erosion control structures, watershed best practices, rainwater harvesting, agroforestry and groundwater recharge.
Project Highlights:
Ghana, West Africa

Watershed Management Group provided professional mentoring for the University of Arizona Student Chapter of Engineers Without Borders (EWB) for a community-based water filtration project in Mafi Zongo, Ghana.
WMG oversaw aspects of the design and construction of a large-scale sand filter that currently serves 10,000 people located in 30 villages. The project started in 2004 and was completed in June 2009. Strong local community leadership and village investment were key factors in making this a successful project.