Bicycle Friendly Business Status Awarded to WMG's Living Lab & Learning Center!
Growing Roots With You: 2013 Annual Report
Campaign Alert: Restore Sabino Creek
Your Guide to Rain Garden Care is Here!
The newest edition of A Watershed Moment will transform you into a super hero—and transform how your knowledge about how to care for rain gardens! Dive in.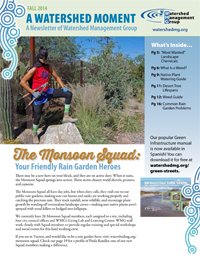 Click here to download our Fall 2014 newsletter, and visit our Co-op Program page to learn how you can transform your own yard with simple and elegant rain garden solutions.
April Is Earth Month at WMG
You Can Get Rebates on Water Harvesting Systems—Our Free Classes Can Help