Join the Fun for Arizona Gives Day – Tuesday, April 7!
With your help we can win big again this year!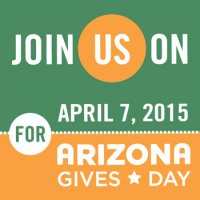 In 2014, WMG donors gave big, and WMG won a $10,000 prize! This year, we are going BIGGER—we aim to raise even more and qualify for prize money again. We're lining up matching gifts from dedicated donors, so that when you give, your gift will be doubled. And we're throwing a big Happy Hour(s) bash again too—we hope you can join us in Phoenix and Tucson!
Getting excited yet? Here's what you can do right now to get ready:

Schedule your donation now—just click here, and click the Donate button in the right sidebar. Your donation will be processed on April 7th and count toward our goal.

Like WMG on Facebook and follow us on Twitter. All the juicy details and our standings will be posted throughout the day. Share WMG's Facebook page with your friends.

Mark your calendar for April 7th and plan to join us for the "There's no beer without water" Happy Hour party at Borderlands Brewing Co, 119 E Toole Ave, Tucson or at Mother Bunch Brewing, 825 N 7th St, Phoenix.
Just confirmed for our Tucson Happy Hour party!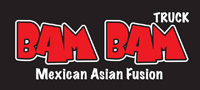 Growing Roots With You: 2013 Annual Report
You Can Get Rebates on Water Harvesting Systems—Our Free Classes Can Help
Ahora en Español — Green Infrastructure for Southwestern Neighborhoods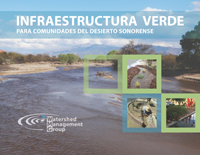 En colaboración con la ciudad de La Paz, Baja California Sur, México estamos orgullosos de ofrecer en español el manual de Infraestructura Verde para Comunidades del Desierto Sonorense! Esta nueva versión incluye información e imágenes específicas para Baja California Sur. Bajarlo aquí (6 MB pdf).
In collaboration with Ciudad La Paz, Mexico, we're proud to offer our Green Infrastructure for Southwestern Neighborhoods manual in Spanish! This new version includes information and images specific to Baja California. Download it here (6 MB pdf).
Watershed Management Group created this manual for neighborhood residents and professionals alike. The manual provides information on designing and installing green infrastructure practices that clean air and stormwater, reduce flooding, calm traffic, and cool and beautify neighborhoods through the use of stormwater harvesting and native vegetation. To download the guide, click here (3.8 MB pdf).
Green Your Potty Routine With WMG's CT Build Workshop
Saturday, April 18, 2015
9:00 a.m. – 4:00 p.m.
at WMG's Living Lab in Tucson
Register online
WMG promotes safe and effective use of your waste by turning it into a resource.
Come learn how to properly use and maintain a composting toilet with Brad Lancaster. Then assemble and take home your own kit-based barrel system composting toilet. The kit comes complete and ready to install at your home. Learn more about this 1-day workshop, what is included, and what you may need prior to installing your own system here.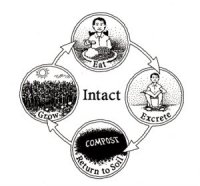 Your Guide to Rain Garden Care is Here!
The newest edition of A Watershed Moment will transform you into a super hero—and transform how your knowledge about how to care for rain gardens! Dive in.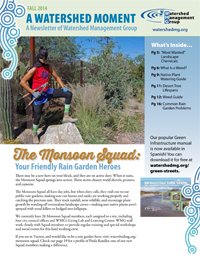 Click here to download our Fall 2014 newsletter, and visit our Co-op Program page to learn how you can transform your own yard with simple and elegant rain garden solutions.