Register Today to Save $ on Your Water Harvesting Certification
Register online today for our Water Harvesting Design Certification course and receive an early registration discount through July 15th.
This 7-day intensive program, November 2 – 8, 2015 in Tucson, provides the highest quality and greatest depth of training in integrative water harvesting in the nation. You'll join our list of Certified Practitioners to integrate new skills and knowledge into your practice, educational, or advocacy work.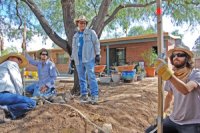 Click here for more information on all our trainings, and email tech-trainings@watershedmg.org with questions.
Your Living Lab: WMG's 2014 Annual Report
Campaign Alert: Restore Sabino Creek
Your Guide to Rain Garden Care is Here!
The newest edition of A Watershed Moment will transform you into a super hero—and transform how your knowledge about how to care for rain gardens! Dive in.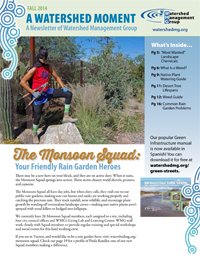 Click here to download our Fall 2014 newsletter, and visit our Co-op Program page to learn how you can transform your own yard with simple and elegant rain garden solutions.
You Can Get Rebates on Water Harvesting Systems—Our Free Classes Can Help
Bicycle Friendly Business Status Awarded to WMG's Living Lab & Learning Center!