Your Gift Supports the Future for Youth Education Initiatives
Watershed Management Group believes youth can lead the way to prosperous communities and a healthy environment—and now you can help.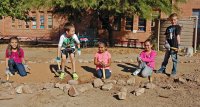 Since 2008, Watershed Management Group has partnered with teachers in K-12 schools to create outdoor classrooms that use water harvesting and native and edible gardens to teach math, science, ecology, health, and so much more.
As we move into 2014, we're expanding our work with children and youth. Will you help to sustain this much-needed work by making a gift to our year-end campaign?
Your gift will support:
Partnering with K-12 teachers to create an ecology curriculum for elementary, middle, and high school students.
Collaborating with Goodwill to provide job training for youth coming out of juvenile detention through the GoodFutures program.
Creating a children's playhouse at our new Living Lab and Learning Center, featuring mini models of kitchen and laundry greywater systems, rain tanks, compost toilets, and an interactive earthworks sand box.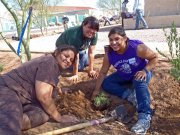 Make your gift to our year-end campaign to support both our program work and capital campaign to build a solid future for youth education! Thanks for your support all year as volunteers, advocates, and social investors partnering with WMG.
Sincerely,

Lisa Shipek
Executive Director
P.S. Did you know WMG is writing a children's book? With your help we can publish and distribute our book, Poo to Peaches, teaching children about site-built compost toilets, soil building, and water conservation. Make a gift to support our new youth initiatives today!
School Grant: Water Harvesting and Urban Wildlife Habitat
Business Owners: The Community Coalition Invites You to La Cocina
The Community Water Coalition invites you to a Business Social. Join us Tuesday, December 10, 2013, from 4:00–6:00 p.m. at La Cocina, 201 N Court Ave in Tucson.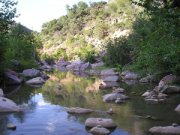 Water connects all life, and water is precious in southern Arizona. The Community Water Coalition brings together diverse groups with a common vision for our region. Our united voice creates a powerful movement working with the City, County, and general public to improve watershed health. Meet the people involved, hear about our work, and learn how you can play a role through our business affiliate program. Light refreshments served, cash bar available.

Please RSVP by Friday, December 6th at the CWC website, or to the CWC Coordinator Karilyn Roach at 520-396-3266 x7 or kroach@watershedmg.org.
*** Watershed Management Group is a founding member and fiscal agent of the Community Water Coalition. ***
Dryland Stream Restoration Training—Early Registration December 13!
Restoration expert Van Clothier and WMG senior program manager Catlow Shipek join forces to offer this 3-day training, January 16–18, 2014, that will blow your socks off! Learn how simple and inexpensive restoring our urban streams, washes, and upland tributaries can be. This course is designed as a technical training for professionals or for backyard resource managers.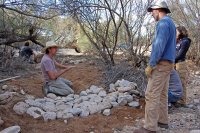 To get the best rates and reserve your spot in the course, register by December 6 by clicking here. For more information on the course, including available professional CEUs, visit our Dryland Stream Restoration Technical Training webpage.
By Popular Demand—the Famous Mesquite Pancake Recipes!
WMG's Fall Newsletter Is Here—Download Yours Today
Because of You... 2012 Annual Report