Invest in WMG's youth training today. Your gift will be doubled!
We're excited to announce a new partnership with Goodwill to provide weekly job training for youth getting back on their feet after a troubled past and juvenile detention. We love giving these youth a second chance and teaching them skills to make our communities better.
When you invest in WMG, you fund our hands-on, life-transforming work with children, teens, and adults. Will you make a gift today to support our new youth job training and other innovative educational programs?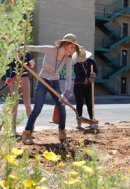 Our goal is to raise $70,000 this month. A loyal supporter has offered $32,000 in matching funds to help us get there, but we need your support to achieve our goal!
Your donation has tangible results:

$25 pays for educational signage at a public rain garden


$50 pays for a water-harvesting workshop for an elementary school class


$100 subsidizes the cost to run a Co-op workshop with a low-income family


$250 subsidizes the cost to run a green job training for youth


$500 funds new educational videos & guides—and their translation into Spanish


$1,000 funds a WMG expert to participate in stakeholder groups to advocate for green technology, sound water policy, and conservation rebates
All donations are valued at WMG. Thank you for giving.
Sincerely,

Lisa Shipek
Executive Director
P.S. All donations in July will be doubled. Your gift of $50 will become $100 to support our programs. Make your gift today.
Growing Roots With You: 2013 Annual Report
WMG Offers You Our Water Harvesting Certification Course x2
Your Guide to Healthy Soils is Here!
Dig in to the newest edition of A Watershed Moment for all you ever wanted to know about how to build healthy soils and reduce your contribution to the waste stream.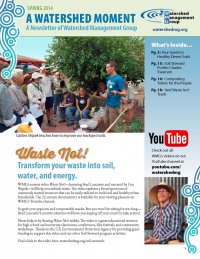 Click here to download our Spring 2014 newsletter, and visit our Soil Stewards page for more great resources and videos.
Waste Not! Transform your waste into soil, water, and energy.
Check out our latest video on YouTube. We're excited to bring you this short, fun, educational video

about rethinking wastes all around you

—

featuring Brad Lancaster.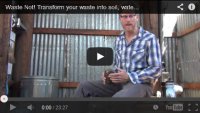 Please help us by sharing Waste Not! widely. The video is a great educational resource for high school and university classrooms, conferences, film festivals, and community workshops.
Thanks to the U.S. Environmental Protection Agency for providing grant funding to support this video and our other Soil Steward program activities. For more information and resources, visit our Soil Stewards webpage.
Join Us for Free Rainwater Harvesting Rebate Classes